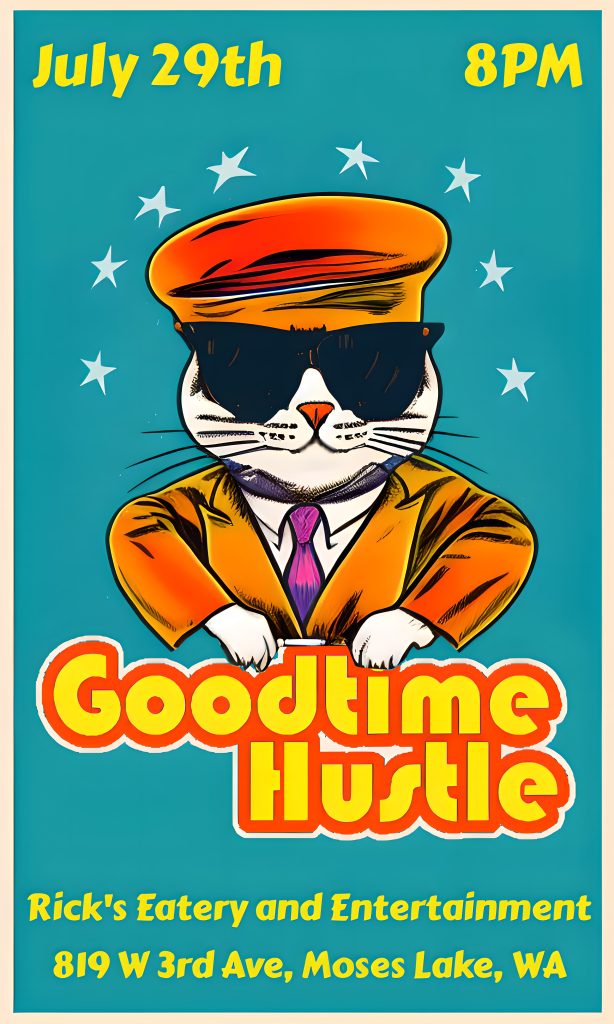 Goodtime Hustle is excited to announce their upcoming performance at Rick's Eatery and Entertainment on Saturday, July 29th. Rick's is located at 819 W 3rd Ave in Moses Lake, Washington.
Goodtime Hustle's music is a unique blend of folk and psychedelic country, with catchy melodies and thoughtful lyrics that showcase the band's creativity and musicianship. Their energetic and engaging live performances have earned them a strong reputation and a dedicated fanbase.
The show at Rick's promises to be a night of great music and fun. Goodtime Hustle will be playing some of their most popular songs as well as new material from their upcoming album, "Big in Bangladesh." The band is known for their high-energy shows that get audiences dancing and singing along.
"We're excited to be playing at Rick's," says lead singer and songwriter Bud Weather. "It's a great venue with a lot of history, and we're looking forward to bringing our music to the people of Moses Lake."
The show starts at 8:00 PM. Tickets are available for purchase at the door. Don't miss your chance to see Goodtime Hustle live and experience their unique blend of music firsthand.
For more information about Goodtime Hustle and their music, please visit their website at www.goodtimehustle.com.