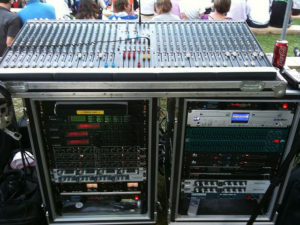 Ten Things Every Stagehand Needs (Updated for 2023)
Not just anyone can be a stagehand. It's physically demanding. It comes with long irregular hours and requires significant training to do well. A person must be able to focus in the face of distraction, work well on a team and be safety conscious at all times. They also need the right gear.
In this article I'm going to cover the ten basic things that I take with me when heading to a call. I'll provide links to places where you can purchase the exact products I use. Some specialty positions such as rigger require tools which I don't list here and some calls don't require everything on the list but this article should cover the ten most common things every stagehand needs.
Personal Protective Equipment (PPE)
Safety is the foremost concern on every job site. There are many different ways to get hurt as a stagehand. Being prepared with the right PPE is important if you intend to make a living as a stagehand. On many calls you will not even be let on site without appropriate PPE.
#1 – Work Boots
Boots are the number one priority. With road cases and equipment everywhere tennis shoes just won't cut it. The boots should be black, have a composite safety toe and be electric safety hazard rated. They also need to be comfortable enough that you can work in them for ten to twelve hours at a time without discomfort.
I personally wear Cat Footwear Men's Excavator XL 6″ Waterproof Composite Toe Work Boot – They look sort of Frankenstein-ish but they're the most comfortable work boots I've ever worn and they meet all the above requirements.
#2 – Impact Gloves
The next item of utmost importance is gloves. Some people use just plain work gloves but I've found that with all the pinch and crush hazards that I'm better off using padded impact gloves. They won't save your fingers from the effects of absent mindedness and poor techniques but I've noticed a serious reduction in the amount of wear and tear on my hands since I started using them.
I use Vgo High Dexterity Heavy Duty Mechanic Glove, Rigger Glove, Anti-vibration, Anti-abrasion, Touchscreen (Size XL, Black, SL8849) – They've got a good grip to make up for loss of finger sensitivity and considering the amount of abuse I'm giving them they're holding up pretty well.
#3 – Visibility Vest
The next order of business is avoiding getting run over by the forklift, scissor lift, and the five foot tall stage hand who's pushing the seven foot tall pile of truss down the ramp. During the show it's important to be dressed for invisibility but during load in and load out the opposite is true. The solution is simple, I throw a High Visibility Vest over my stage blacks. Voila! I can suddenly be seen from a mile away.
My vest is a Radians unisex-adult Safety Vest – It's on the higher end of the price spectrum but it's well equipped with pockets and places to clip gear. It's also pretty heavy duty. In the primary company I work for, stagehands tend to wear orange and leads tend to wear yellow but, there is no hard and fast rule that says that must be the case.
#4 – Hard Hat
Now that we're somewhat protected from hazards on the ground, we've got to think about what's above us. There are all sorts of hazards in the air above a stage. It is a serious offence to drop something from above on a stage but from time to time it does happen. That's why on a lot of calls a hard hat is a requirement.
Since you're going to be wearing it all day it's important to get a hard hat that's going to be comfortable and safe. My hard hat is a Green MSA V-Gard Advance Hard Hat w/ Ratchet Suspension. Most of the crew I work with have white hard hats but once again there seems to be no set standard in hard hat color for stagehands.
No hard hat is complete without stickers. To prevent your hard hat from malfunctioning due to insufficient sticker load I highly recommend an http://www.cafepress.com/checkeredhat.2042216807 official Checkered Hat Logo sticker.
Tools For Stagehands
#5 – C Wrench
No stagehand is complete without an eight inch C Wrench. It's important to know when and when not to use this device. There's very few things as frustrating as discovering a whole series of bolts which should have been finger tightened but instead have been wrenched in place with gorilla strength. When in doubt, ASK! My wrench is a simple Crescent 8″ Adjustable Black Oxide Wrench, Bagged – AT28BK. It has served me just fine and it was cheap.
#6 – Tool Lanyard
Any tool you're going to use in the air needs to be secured to your person. Otherwise you risk beaning someone on the helmet with your tool and getting escorted off the call. You do not want this to happen. My solution to this problem is a Ergodyne – 19002 Squids 3100 Tool Lanyard with Single Carabiner and Adjustable Loop End, Standard Length, Black. I actually use it backwards with my wrench secured to the wrist end and the carabiner attached to my belt loop. It gives me enough length to work but I don't have the hassle of having it attached to my wrist. My tool lanyard also serves a second purpose, it keeps other people from running off with my wrench. That alone made it worth the money.
#7 – Multi-Tool
I've seen a whole laundry list of recommended tools for stagehands. Most of them can be covered with just an everyday multi-tool. Mine is a GERBER Crucial Multi-Tool – Black w/Pocket Clip & Strap Cutter. I've had no problems with it and it came in a handy zip tie cutter.
#8 – Flashlight
The most often used tool I own is my flashlight. It doesn't get an exceptional amount of use in calls to giant venues but when I'm working at a club I put it through the wringer. I use an ULTRAFIRE Single Mode Mini Flashlight,1200 High Lumen Zoomable LED Tactical Flashlight with UFB18 and Charger. It's small, focusable and ridiculously bright. Plus it's got a metal clip which allows me to secure it to my person.
#9 – Sharpie
One tool that people often forget to come equipped with is a Sharpie. Whether you're labeling the sound board or marking gaff tape you're going to need one at some point in your day. I prefer the bulk approach with Sharpies.
#10 – Pocket Notepad
Sometimes it seems like the hardest thing to find on a call is the way to write things down. I always carry a small notepad and a pen with me. It saves me from having to ask the same question twice or from needing to run back to the stage to find out whether I just plugged the stage left DI into number eleven or number twelve. Having the right tools saves time and prevents mistakes and that's why a small notepad rounds out the list.
Dressed in black and armed with these ten things you'll be equipped for most stagehand calls. If you have any doubts about what you're going to need for a call don't be afraid to ask your lead before you show up. Clients love a stagehand who takes the time to gather the information they need to do the job right the first time.
I hope you found this helpful. If you have any questions feel free to leave them in the comments below. Good luck!
Please note: I make money if you make purchases following these links.