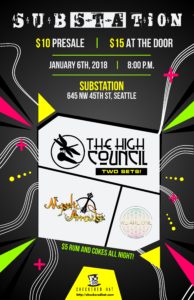 Join us on Saturday, January 6th, 2018 for a night of soulful higher consciousness music featuring four sets of music by three musical powerhouses at Substation, Seattle's premiere underground music venue.
This is your opportunity to catch The High Council playing two full sets. Hailing from the beating heart of the Evergreen State, The High Council explores the boundaries of melody and groove. With a blend of transcendent improvisation and earthy rock sensibilities, THC draws on elements of jazz, reggae, rock and psychedelia. The High Council members are lead guitarist Zeke Wakefield, rhythm guitarist Ryan Phillapart, bass guitarist Evan Robertson, keyboardist Zack Olson, drummer Davy Nefos and percussionist Jeff Pang.
They will be joined by one of Seattle's finest original reggae bands, Mystic Arrows. With roots in Seattle the Mystic Arrows have worked their way into the northwest reggae scene, playing in venues and bars all around Washington.
Sarah Christine is a visionary songstress and soulful siren that channels the Divine Feminine through the frequency of song and musical affirmations. Her conscious lyrics and soulful voice deliver uplifting messages of empowerment, positivity and connection drawing the listener inward to feel the wisdom of their own soul. Sarah Christine has a deep desire to help people become more aligned with their authentic power and inner guidance in order to create transformation and healing on the planet.
Don't miss out on this opportunity to see these three great acts with $5 Rum and Cokes all night.
Presale tickets are only $10, available through Brown Paper Tickets. Admission is $15 at the door.
Check out our Facebook event page for more information.