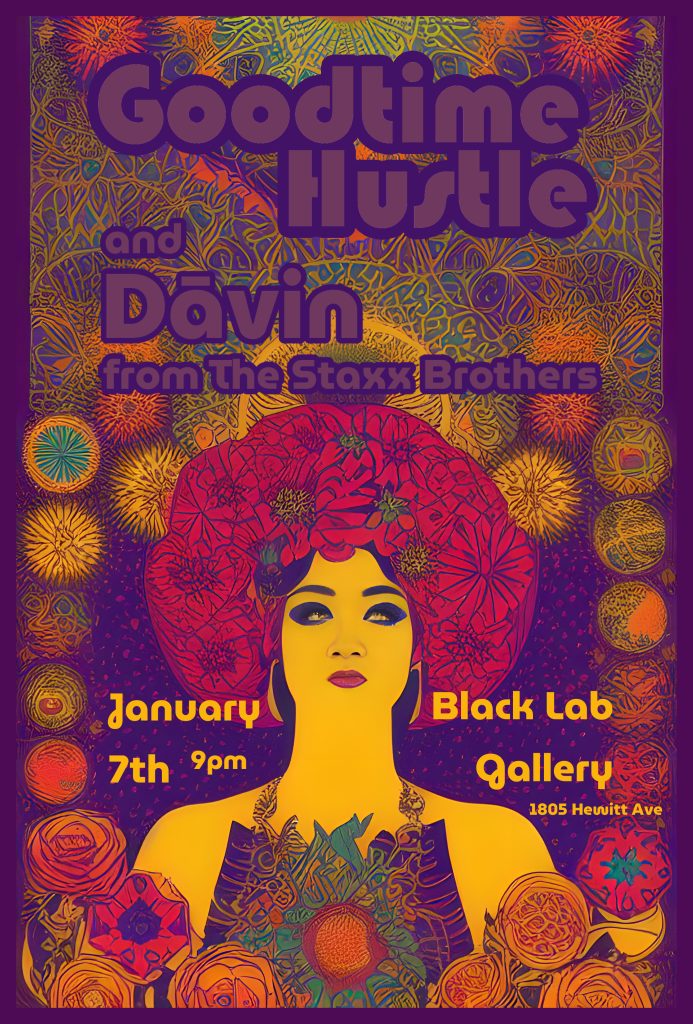 Goodtime Hustle, Seattle's far-alt-country jam band performed live with Dāvin (from The Staxx Brothers) January 7th at Black Lab Gallery, 1805 Hewitt Ave, Everett, WA. Doors open at 8:00pm, show starts at 9:00pm. This is a 21+ event, ID required. Tickets are $10 at the door.
Goodtime Hustle, a four-piece alt-country jam band based in Seattle, features Chris Denny on lead guitar, Michael Gagliardo on bass, and Tom Lash on drums. In the band's music, Goodtime Hustle's frontman, Bud Weather, tells the story of his life as a psychedelic outlaw. Honed by "a good long time to think about what you've done," Bud's songs are as honest as they are absurd as he twists a tale of uncommon crime, kafkaesque punishment, and ten grams of make believe LSD.
Goodtime Hustle will be joined by Dāvin (from The Staxx Brothers) who will be performing a rare solo acoustic set at Black Lab Gallery in Everett. Dāvin will play his hit "Free Your Mind".
More information about the event can be found at https://bit.ly/blacklabgallery17
Goodtime Hustle
https://facebook.com/goodtimehustle https://goodtimehustle.com
Dāvin