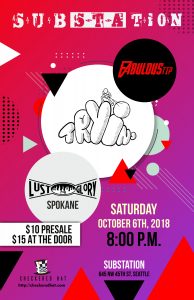 On Saturday, October 6th, Substation will be melting minds in Ballard with four sets of music by three of the Pacific Northwest's most outside the box acts. Substation is Seattle's premiere underground music venue, located at 645 NW 45th Street.
Tryin', is a groovy, Seattle-based live electronic trio that blends elements of trance fusion and disco. They create a unique sonic canvas during every performance. They are bound to blow your mind. Their Facebook page is: https://www.facebook.com/pg/TryinMusic/
Playing support will be, Lust for Glory, a straight-forward, three piece rock band with a rough edged "Lo-Fi" sense of rock and roll. Swinging from hard hitting riff to lilting, spacey melody (sometimes within the same song) LfG genuinely disregards the conventional ideas of what rock and roll 'should' be. Raw guitar and frenetic drums keep the already jagged sound from getting dull, the live performances 'fresh' and gives the listener the sense that they've caught the band with the garage door partially open.
You can learn more about the at http://www.lust4glory.com/
They will be joined by special guests, and local favorite Fabulous Tip. You get a taste of their music at https://www.facebook.com/fabuloustipband/
Don't miss out on this opportunity to journey through the boundaries of space and tie with these three great acts!
Presale tickets are only $10, available through Brown Paper Tickets.
Admission is $15 at the door.
Check out our Facebook event page for more information: