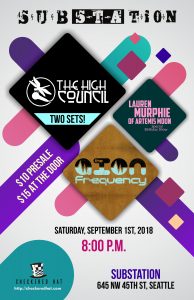 On Saturday, September 1st, Substation will be bending genres and bringing the jams to Ballard with four sets of music by three of the Pacific Northwest's most outside the box acts. Substation is Seattle's premiere underground music venue, located at 645 NW 45th Street.
The High Council will be playing two full sets. From the heart of the Evergreen State, The High Council explores the boundaries of melody and groove. With a blend of transcendent improvisation and earthy rock sensibilities, THC draws on elements of jazz, reggae, rock and psychedelia. The High Council members are lead guitarist Zeke Wakefield, rhythm guitarist Ryan Phillapart, bass guitarist Reign King, keyboardist Zack Olson, drummer Davy Nefos and percussionist Jeff Pang.
https://www.facebook.com/thehighcouncilband/
They will be joined by The Aion Frequency, Seattle's premier Folktronica act. This tight knit group featuring Daniel Eckman, Jeremy Lenz, Tim Harper and Ben Heege is bound to amuse and amaze with their folk electronic dance jams. More information about The Aion Frequency is available on their Facebook page: https://www.facebook.com/theaionfrequency/
Appearing for a special birthday performance, Lauren Murphie, of Artemis Moon, will be opening the night with a solo ukulele set. You can hear some of her music on her Facebook page: https://www.facebook.com/artemismoonmusic
Don't miss out on this opportunity to journey through the boundaries of music and mind with these three great acts!
Presale tickets are only $10, available through Brown Paper Tickets.
Admission is $15 at the door.
Check out our Facebook event page for more information:
https://www.facebook.com/events/2105969733001224/