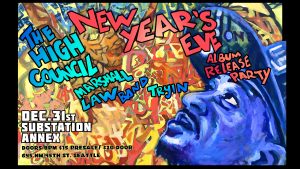 New Years' Eve 2008 – featured The High Council and Marshall Law with a psychedelic musical jam band blow out like no other. Pacific Northwest jam scene mainstays, The High Council released their second LP, a two-disk album entitled "Chasing The Sun" with a New Year's Eve album release party at the new Substation Annex in Ballard. Joining the bill were local favorites: Marshall Law Band, and Tryin.
The product of over a year's work, "Chasing The Sun" stretches the boundaries and perceptions of what a jam band studio album can be. Great effort was taken to capture and reproduce the elusive energy and feel of the live performance, while also maintaining the highest production standards. The album runs the gamut from concise and thoughtful songwriting, to mind-bending improvised jams, tied together with a sound that flows seamlessly between psychedelic rock, funk, blues, and Americana. They have a Southeast Asian tour planned in February in support of the LP, as well as several regional shows.
The High Council members are lead guitarist Zeke Wakefield, rhythm guitarist Ryan Philippart, bass guitarist Reign King, keyboardist Zack Olson, drummer Davy Nefos, and percussionist Jeff Pang.
Joining the bill as main support; Marshall Law Band is a high-energy 6-piece Hip-hop and Funk group that has been tearing up stages across the northwest. MC Marshall Hugh's conscious and inventive lyricism combined with their band of unusual and severely talented musicians creates a unique and powerful sound. They released their debut EP "Nostos: A Hero's Journey" on November 21st, 2018.
Also making a special guest appearance was Tryin', a groovy, Seattle-based live electronic trio that blends elements of trance fusion and disco. They create a unique sonic canvas during every performance. They are always bound to blow your mind.
For more information please see our Facebook page
http://bit.ly/thcnye206