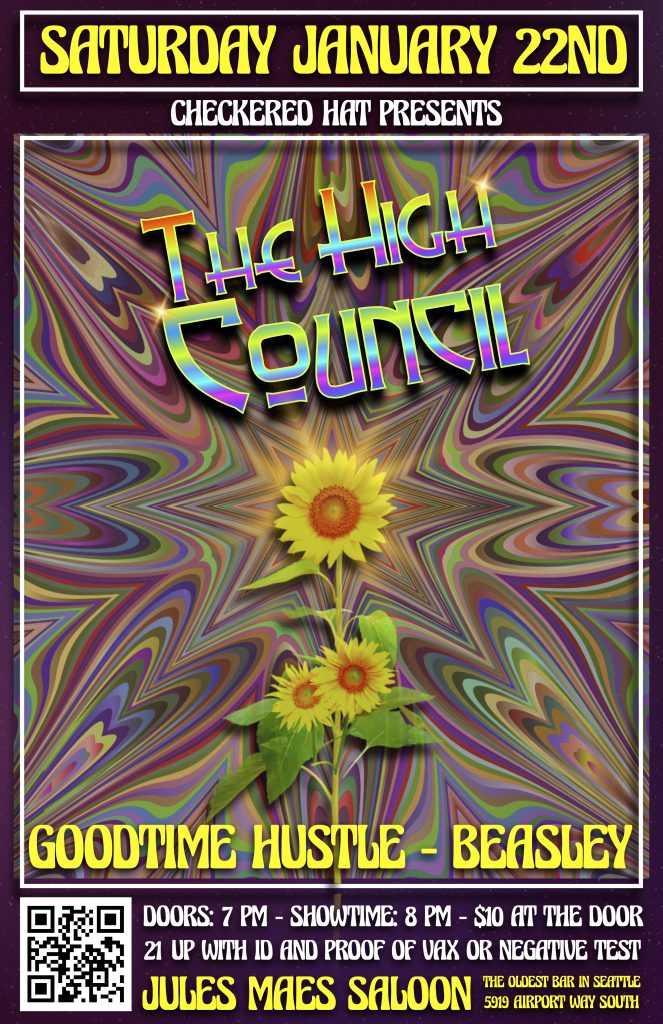 On Tuesday, January 22nd, Pacific Northwest jam scene mainstays, The High Council, will host a show at Jules Maes Saloon in Seattle featuring Goodtime Hustle and Beasley. Doors open at 7:00pm. Music starts at 8:00pm. Tickets are $10 at the door.
Hailing from the beating heart of the Evergreen State, The High Council explores the boundaries of melody and groove. With a blend of transcendent improvisation and earthy rock sensibilities, THC draws on elements of jazz, reggae, rock and psychedelia. The High Council members are lead guitarist Zeke Wakefield, rhythm guitarist Ryan Phillapart, bass guitarist Evan Robertson, keyboardist Zack Olson, drummer Davy Nefos and percussionist Jeff Pang.
They will be joined by Goodtime Hustle. Based in Seattle, Goodtime Hustle plays a fusion of folk rock and alt country called Folkadelic Con-fusion. Fronted by Bud Weather, the band features Chris Denny on lead guitar, Michael Gagliardo on bass and Tom Lash on drums. Goodtime Hustle counts among their many influences: The Grateful Dead, Steve Earle, and Cake. Their first full-length album is scheduled for release on St. Patrick's Day.
Also appearing is Beasley. Pointedly critical yet hopeful, Beasley writes songs that offer a strong melody, a biting criticism, and a chorus you'll find yourself humming which calls the listener to live more honestly hopeful.
5919 Airport Way S, Seattle, WA 98108
21+ with ID
Proof of vaccination or negative COVID test required.
The High Council https://facebook.com/thehighcouncilband
Goodtime Hustle https://facebook.com/goodtimehustle
Beasley https://www.beasleydotcom.com/
Watch the video here -> https://youtu.be/VqSo_ZSxZCI