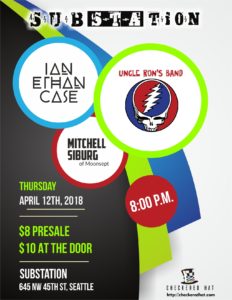 On Thursday, April 12th, Substation will be hosting a night of mind-expanding psychedelic music featuring three incredible acts. Substation is Seattle's premiere underground music venue, located at 645 NW 45th Street.
Uncle Ron's Band is Washington's finest Grateful Dead tribute band. Featuring Ron Killman on guitar and vocals, Damon Thompson on guitar and vocals, Warren Holt on keys, Reid Schadt on bass and vocals, and Steve Hannan on drums and vocals. This band is guaranteed to expand your mind and force you to dance. You can learn more about them on their Facebook page: https://www.facebook.com/UncleRonsBand/
They will be joined by Ian Ethan Case. Acoustic double-neck guitarist and Candyrat recording artist Ian Ethan Case is quickly becoming recognized as "one of the most creative and engaging fingerstyle guitarists in the world" (International Center for Creativity.)

After a decade of composing and performing around the country largely under the radar, in 2015 a viral facebook video of his song "Butter II" introduced his music to over 6 million listeners around the world in the course of a month. In addition to a record deal and endorsements with companies such as Ovation guitars and Boss pedals, 2016 and 2017 provided extensive touring opportunities throughout Europe and the United States, including two performances with a full symphony orchestra. Fingerstyle legend Don Ross invited Case to open for him in Ross' then-hometown of Toronto, later describing his performance as "some of the most massively inventive musicianship I've ever heard/seen." Other listeners have described his music as a cross between Michael Hedges and Pat Metheny. To learn more about Ian, visit his website: http://www.ianethan.com/
Playing support will be Mitchell Siburg of Moonsept. Mitchell is a classically trained musician who studied at Berklee College of Music. His musical influences range from, Herbie Hancock to Tame Impala. Mitchell continues to explore all different types music, which allows him to bring a modern feel to classic grooves. You can hear some of Mitchell's music on Moonsept's Facebook page:
https://www.facebook.com/Moonsept-354103681702434/
Don't miss out on this opportunity to see these three wild acts all on one stage.
Presale tickets are only $8, available through Brown Paper Tickets.
Admission is $10 at the door.
Apodment "podners" will receive a $2 discount at the door upon showing their key fob.
Check out our Facebook event page for more information: