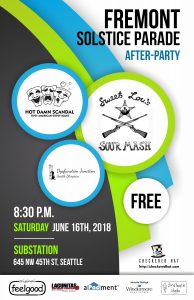 On Saturday, June 16th, Substation will be hosting a free Fremont Solstice Parade After-Party featuring three of the Pacific Northwest's finest bluegrass and acoustic bands. Substation is Seattle's premiere underground music venue, located at 645 NW 45th Street.
Sweet Lou's Sour Mash started in March of 2013, and has been refining their sound and high-energy live show ever since. Mixing originals, punk covers, rock 'n roll covers, and their own twist on traditional bluegrass tunes, Sweet Lou's is a band for all occasions. You can usually find one or more of their members at one of Seattle's numerous bluegrass jams.
You can learn more about them on their Facebook page: https://www.facebook.com/sweetloussourmash/
They will be joined by Hot Damn Scandal, a band which finds its songs under park benches and in forgotten alleyways. The resulting outlaw ballads, dirty jazz, circus freakouts, shanty-rags, string band funk, lonesome heart-breakers, and whiskey bottle love songs blend together in a sweet song syrup somewhere between a ramble and a roar. Sometimes called 'Northwest Devil Swing', Hot Damn Scandal pulls no punches and and puts thunder in your molasses.
Their Facebook page is: https://www.facebook.com/HotDamnScandalBand/
Playing support will be Dysfunction Junction. Named one of Seattle's best bluegrass bands by CBS News, Dysfunction Junction was formed solely to create great bluegrass music and to have a good time while playing it. The majority of Dysfunction Junction shows are played at private functions and parties, and this is a rare chance to catch them live and for free in a public venue, Regular "Dysfunctionites" include Patrick Ferris (bass, vocals), John Brogan (mandolin, vocals), Jason Stewart (banjo, vocals), Kirk Reese (guitar, mandolin, vocals) and Tim Wetmiller (fiddle).  Check out their Facebook page for more about them: https://www.facebook.com/Dysfunction-Junction-Bluegrass-61663731453/
This event is proudly sponsored by Original Feel Good, Lagunitas Brewing, Birdhouse Studio, Michelle Shafagh – Windermere Real Estate, and Calhoun Properties Apodment Suites.
Don't miss out on this opportunity to see these three great acts free of charge.
Substation is always 21+.
Check out our Facebook event page for more information:
https://www.facebook.com/events/625461357794732/