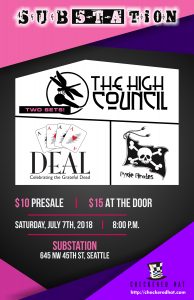 On Saturday, July 7th, Substation will be bringing the jams back to Ballard with four sets of music by three of the Pacific Northwest's most popular jam bands. Substation is Seattle's premiere underground music venue, located at 645 NW 45th Street.
The High Council will be playing two full sets. From the heart of the Evergreen State, The High Council explores the boundaries of melody and groove. With a blend of transcendent improvisation and earthy rock sensibilities, THC draws on elements of jazz, reggae, rock and psychedelia. The High Council members are lead guitarist Zeke Wakefield, rhythm guitarist Ryan Phillapart, bass guitarist Reign King, keyboardist Zack Olson, drummer Davy Nefos and percussionist Jeff Pang.
https://www.facebook.com/thehighcouncilband/
They will be joined by Deal, Seattle's most experimental and creative Grateful Dead tribute band. Deal's shows are a tapestry of psychedelic soundscapes and pure improvisation peppered with the familiar and well loved songs of the Grateful Dead. Join us for a journey of cosmic bliss guided by the unseen hand of these incredible musicians. You can get a taste of what's in store on their Facebook page:
https://www.facebook.com/DealGoDown/
Playing support will be Pyxie Pirates. The musical love child between the saucey psychedelic Miss Frizzle and Wesley Thomas, the wild boy of the Seattle jamband Runes of Neptune, Pyxie Pirates is guaranteed to steal your face an leave you begging for more.  You can learn more about them by looking at their Facebook page:
https://www.facebook.com/PyxiePiratesMusic/
Don't miss out on this opportunity to journey through the boundaries of music and mind with these three great acts!
Presale tickets are only $10, available through Brown Paper Tickets.
Admission is $15 at the door.
Check out our Facebook event page for more information:
https://www.facebook.com/events/173670959962651/