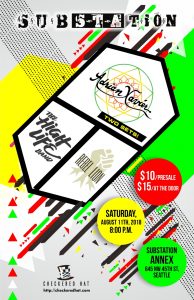 Join us Saturday, August 11th for a night of soulful higher consciousness reggae music featuring four sets of music by three musical powerhouses in the new Annex Room at Substation, Seattle's premiere underground music venue, located at 645 NW 45th Street.
Adrian Xavier's music brings together a union of solid reggae foundations with positive energy and socially aware lyrics. With 3 solo albums and nearly 20 album collaborations, Xavier has established himself as a performer of depth and dimension, collaborating and performing with many legendary musicians. Whether he's found performing with his band or solo acoustic, the music he makes touches audiences, providing a refreshing engaging space at each performance. Adrian Xavier's story is tied to multi cultural awareness and what it means, sending clear messages about living solutions. His Facebook page is: https://www.facebook.com/AdrianXavierMusic/
Playing support will be the High Life Band, an authentic and unique world reggae music band from Seattle, Washington. Rhythms from the French Caribbean and West Africa are combined with Jamaican rockers, bif-baf, steppers, one-drop, and dancehall reggae traditions. The lyrics are direct, and sing of love and conscious direction in everyday life. Live performances are power-packed and the performers animated and engaging. Since 2011, The Highlife Band has been entertaining audiences from France to Canada to the Western US with original songs made for dancing and singing. You can discover more about them on their Facebook page: https://www.facebook.com/highlifeband/
Rebel Lion will also be playing support. Drawing inspiration from a multitude of different musical backgrounds and influences, Rebel Lion has crafted its own unique feel. Featuring four-part vocal harmonies, blistering guitar solos, driving rhythms, ambient and spatial delays fuse together to create a big and heavily textured Roots and Dub flavored reggae sound. You can learn more about Rebel Lion on their Facebook page: https://www.facebook.com/rebellionreggaeofficial/
Don't miss out on this opportunity to see these three great acts!
Presale tickets are only $10, available through Brown Paper Tickets.
https://substationannex.bpt.me/
Admission is $15 at the door. Substation is always 21+
Check out our Facebook event page for more information:
https://www.facebook.com/events/2137330236509800/